Some of our posts may have affiliate links including this one. That means if you make a purchase I may get a commission (at no extra cost for you). To find out more about it read our Disclosure page
In this article we are going to explore something called Dagcoin. And we are going to try and find the answer to if Dagcoin scam or not? Before we get into that, we reported recently about another scam.
Namely OneCoin. Where the team behind OneCoin so far according to reports have managed to acquire around $3.7 billion dollars from their ponzi scheme.
It was reported just a few days ago that one of the top leaders of OneCoin had been arrested in Los Angeles, and that is going to be prosecuted in New York for his involvement. But it doesn't end there.
It was even reported by an author known as BlockbyBlock on Medium in July 2016 that OneCoin was nothing but a big scam – Why OneCoin is One Big Scam. So what does that have to mean with Dagcoin? And is Dagcoin a scam or not?
OneCoin the $3.7 Billion USD scam that keeps on going
Dagcoin is the next scam from the same team behind OneCoin?
There are several tells that ponzi schemers all give off. They talk about the incredible potential of getting extremely high returns in a very short time. They use a lot of buzz words, and it basically sounds too good to be true. Because 99% of the time it is.
If you go into OneCoin's website you can read about the hype:
"Join the Financial Revolution". The First Transparent, Global Cryptocurrency for Everyone. When joining OneCoin, users become part of a global network of millions of OneCoin miners"

OneCoin – website
And the fake promises consisting of known banking phrases trying to fool the inexperienced
"Coins are protected and OneCoin provides compliance on AML".

OneCoin – website
And if we decided to have a look at this exciting crypto project known as Dagcoin, what we can find is strikingly similar to what is promised from OneCoin.
"Dagcoin has government licenses for crypto and is strictly following KYC and AML laws to reduce illegal or criminal transactions in the financial world. This creates a more secure environment for our community."

Dagcoin – website
The team has clear links to OneCoin
We can find several links between OneCoin and Dagcoin. The first one is the CEO of Dagcoin, namely Nils Grossberg. He's been part of the 'OneCoin and One Dream Team Leaders' from their Estonia branch (Nils is being named as from Latvia).
As seen by the picture here below. (Find link between OneCoin and Dagcoin here at this Facebook post from 2016).
We can also have a look at a post from BehindMLM, that goes into this as well. And we can clearly see Nils being part of OneCoin's Europe ambassador tour from 2016.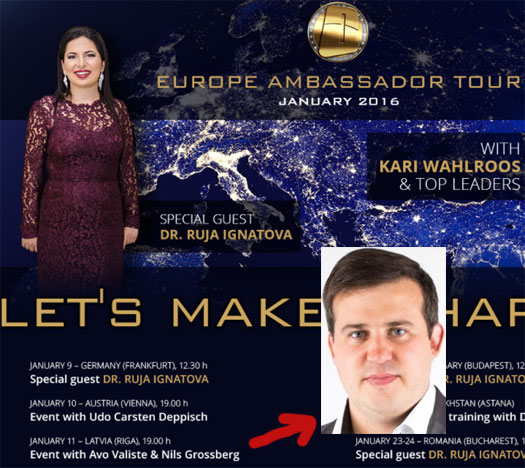 The second person we can connect between the two teams is Kriss Ress. He's mentioned in the same Facebook post we posted before. And he's the Chief Visionary Officer for the Dagcoin team.
160,000+ members part of Dagcoin? But nowhere to be found?
On their Dagcoin's website, they are proclaiming that they have more than 160,000 members involved with Dagcoin somehow. The information about these members is not 100% clear.
And they go into nu further details about who these members are, how exactly they are connected to Dagcoin. And to what extent that is influencing the potential of Dagcoin. Are we getting closer to figuring out if Dagcoin is a scam or not?
This is how the scams work
1 ) They are promising an unbelievable technology:
Near-zero transaction fees", "Almost instant transactions", "WELCOME TO SWIPEX ‒ THE BEST CRYPTO EXCHANGE PLATFORM IN THE UNIVERSE" .
The latter is referring to the 'only' exchange where you can buy Dagcoin. Linking to an exchange where it's near impossible to get any looks into the site itself.
Does it have any trading volume, real users? Nothing that can be verified by a trusted 3rd party at least
2 ) They brag about how many people are involved without giving clear evidence to how:
"In our January post "5 Reasons to Start Accepting Dagcoin" we wrote how 150,000 people were now using Dagcoin and that 250 companies were members of the merchant finder and accepting it as a payment option.
Fast forward just 3 months and now we are at 200,000 people who are own and use the currency and over 400 businesses are accepting it as a payment option"
Unfortunately, there's no way for us to validate this as any trading volume of the Dagcoin is not public. Nor are they providing any evidence to support these claims
It can work for a minute, then you're left with nothing
It can work in the beginning – They get buyers in and try to increase the popularity of the coin, which will increase the price of it until it all eventually implodes. And the ones coming in at the end are too late and left with nothing.
It is unclear if the team behind Dagcoin managed to get hold of any money in the process. And they haven't yet like OneCoin been established as a scam. But there were reports out last year, like this one from Bitcoin Exchange Guide that Dagcoin was a scam. The activity on their Reddit channel is today almost non-existent.
They have a list full of merchants around the world accepting Dagcoin, Go Cryptowise has reached out to a few of the merchants to verify if they are using Dagcoin today.
But from a closer look, it seems to follow the exact same M.O. like OneCoin and previously known scams like Bitconnect.
When will these scams end?
And what can we expect to happen to the people behind them?
Bitconnect: After the Bitconnect scam the alleged India head of the scam, Divyesh Darji was arrested in Dubai (Cointelegraph). There is an active FBI investigation looking into Bitconnect, where there are more people expected to indicted for their involvement.
OneCoin: As we could report recently one of the identified leaders Konstantin Ignatov behind the OneCoin scam was arrested in Los Angeles.
Together with his sister Ruja Ignatova, also known as "Crypto Queen" who has been reported as the founder OneCoin. A Bulgarian national who was arrested in India amongst a group of people connected to the scam back in 2017 (Coindesk). But Ruja Ignatova, or 'Crypto Queen' is reported to still be at large.
Dagcoin: Is still being mentioned today, and reviewed across a number of crypto websites (we don't want to name them).
But it's mentioned as having a vast network and superior technology behind it: "Due to the extensive ecosystem, Dagcoin users can perform transactions faster and easier using the data of previous transactions".
So it remains to be seen what will happen with Dagcoin. Is it a scam? Have they managed to get hold of any money from ill-advised investors? And are the same people behind it and OneCoin? We can't say for sure that Dagcoin is a scam, but it's looking good.
Remember to research all crypto projects before you invest in them.
The crypto space is by large still unregulated, so new projects that hasn't been vested yet can create ICOs, and perhaps even get on to some of the smaller exchanges.
Make sure you are do research on all the cryptocurrencies you might want to buy. For example finding a trustworthy exchange is super important. That's why we have only listed the trusted exchanges that we prefer. Any ICOs you want to get in on, and other products like wallets, etc.
If unsure we have put together a guide that could help you be safe with crypto.
A couple of tips to help you avoid scams, hacks and other risks are:
Do your own research (DYOR) before investing into any new and exciting cryptocurrency. Especially the ones that promises huge returns. Where all you need is a laptop and some initial deposit. Those are big warning flags. And others may have made money from ponzi schemes if they are early, but that doesn't mean it's not much more than a pyramid scheme. Check the founders out at LinkedIn, Google them, and use other sources too.
Don't throw all your life investment into anything. Only 'invest what you're willing to lose'. Following that advice and you will be much more comfortable with your investment choices and exposed to far fewer and less life-changing risks.
Use reputable exchanges and trading sites when you buy and sell cryptos, use our crypto exchange guides here or this Bitcoin trading list by Insidebitcoins
Other helpful information:
Find more interviews and news here on our blog!
Other popular guides:
Hello and welcome to Go Cryptowise.
My name is Per Englund and I'm a long-term fan and investor and trader of Bitcoin and other cryptocurrencies. I caught the attention of Bitcoin like many other several years ago, but it was first around 2016/2017 that I truly got into cryptocurrencies and blockchain technology.
I have since traded, bought, researched and learnt about this new emerging space to the fullest. When not producing crypto-content I create and design new products and businesses. And I want to combine my business experience with my passion to create meaningful content for all our readers.
And I am bringing this vision to my writing and how Go CryptoWise work.
Connect with me on LinkedIn. Ask me anything on here.
Get in touch with me to find out more about Go CryptoWise and what we care about.