The complete guide for taxes on crypto trading 2020
Some of our posts may have affiliate links including this one. That means if you make a purchase I may get a commission (at no extra cost for you). To find out more about it read our Disclosure page
Are you reading this guide when you are thinking if taxes for crypto trades apply to you? Maybe you have done hundreds or more crypto trades and the task of compiling them all for your crypto tax files seems overwhelming?
Don't worry in this guide, we will help you understand how crypto taxes work and if you need to think about taxes on your crypto trading. And then to help you deal with those scenarios we are reviewing a few crypto tax services that can help you do your taxes more easily.
Depending on where you live in the world, you might need to pay taxes on your crypto trades, i.e. when you trade one crypto for another or use your crypto to buy something.
We are not financial or legal advisors, so please make sure you seek professional advice from a tax /financial/legal advice if necessary.
Taxes on crypto trading and why you should care
In this guide about crypto taxes you will learn about:
What is great about cryptocurrencies is that they are borderless, they are not controlled by a single entity or government.
And they can be used for a great number of instances.
But there are complications to this rather non-unified way how taxes on crypto trading works in different parts of the world.
There have been talks on both an EU level and at the G20 summits, to unify the classification and taxing of cryptocurrencies globally, but that's either a pipe dream (or nightmare?) or years away from being a reality.
With that said we've looked into the tax situation when it comes to cryptocurrencies, reviewed some helpful tools that might help you, and compiled other perhaps useful tips and articles.
Common scenarios when you might need to pay taxes on crypto
You bought 1 cryptocurrency and traded it for another. In many countries, this is considered a taxable event, for any capital gains or losses made on that trade.
You bought something with your cryptocurrency for example, you paid for your morning coffee with some Bitcoin, or a car, or a pizza, etc.
You have mined cryptocurrencies, this might be taxed as a hobby or professionally.
You've received cryptocurrencies part of an airdrop
You've received cryptocurrencies while staking
You've received cryptocurrencies part of a hard fork
Exploring each scenario for how taxes on crypto trading works
Scenario 1: You bought 1 cryptocurrency and traded it for another
This will in most cases be considered a taxable event. If your country has taxes in place that affects cryptocurrencies, then most likely it will be mean that this scenario will be taxed.
In many of those scenarios, it will be taxed as a capital gains event.
So any gains made from that cryptocurrency you originally bought and later traded for another needs to be calculated.
But any loss made could and should be considered as it can be used to offset other gains and income.
Wikipedia article on Capital gains tax
Scenario 2: You bought something with your cryptocurrency
Another taxable event, and as with scenario 1 any gains/losses made on that cryptocurrency you used to buy something needs to be taxed. That covers anything you buy it with. So it doesn't matter if it's for a pizza, coffee or a car.
Scenario 3: You have mined cryptocurrencies, this might be taxed as a hobby or professionally
Depending on the volume and amount mined it can be considered income part of a business. IRS, for example, considers mining a form of self-employment if the value gained from mining is more than $400 per calendar year.
Check-in your country how mining is taxed.
Coindesk article on mining, Coincentral article on mining
Scenario 4: You've received cryptocurrencies part of an airdrop
An airdrop is a distribution of a cryptocurrency token or coin, sent out to a large number of wallet addresses, usually for free or as a reward for doing some smaller task.
And how these are exactly taxes is not clear, not even to the IRS for example.
Where both senior legal experts and IRS themselves can't say for sure how they should be taxed. But they should be reported as a taxable event.
Scenario 5: You've received cryptocurrencies while staking
In the U.S this should be considered the same as for mining. I.e. over a certain income made and it should be regarded as a business activity.
Scenario 6: You've received cryptocurrencies part of a hard fork
A hard fork is where a cryptocurrency splits into two after a major upgrade to the blockchain. Resulting in an old and new cryptocurrency.
In the U.S the IRS has not here decided nor publicly informed the cryptocurrency community how it should exactly be taxed.
But what you can be sure of is that if you live in the U.S it should be reported to IRS at least.
CPA Journal article on hard forks and taxes
Check out our special crypto tax episode on YouTube
4 Helpful tools to help you do your taxes for your trades
If you have done a lot of trades then it will be quite quickly difficult for you to calculate the correct taxes on all your crypto trades.
I know this personally as I found myself in this situation before, and I then used one of the below tools to help me file my taxes.
So we have below listed some tools that might help you creating those reports automatically after you've uploaded your trades.
***You can most likely use these services wherever you live in the world. If you need to pay taxes on your capital gains then these tools can help you!
1 ) Cointracking is an online service that collects all your crypto trades via exchanges and helps you file tax returns based on your trades.
CoinTracking analyses your trades and generates real-time reports on profit and loss, coin values, and realised and unrealised gains, tax reports and more. Simplifying your tax reports and your life. Check out their website for more information www.cointracking.info
2 ) Cointracker is another service that can help you compile your trades, and automatically create your tax reports. It has 4 different pricing models, depending on how many trades you've made.
It can automatically import your trades if you connect the exchanges you've used, or you can manually import trades, it also offers you the possibility to import trades from your wallets.
Check out their website for more information www.cointracker.io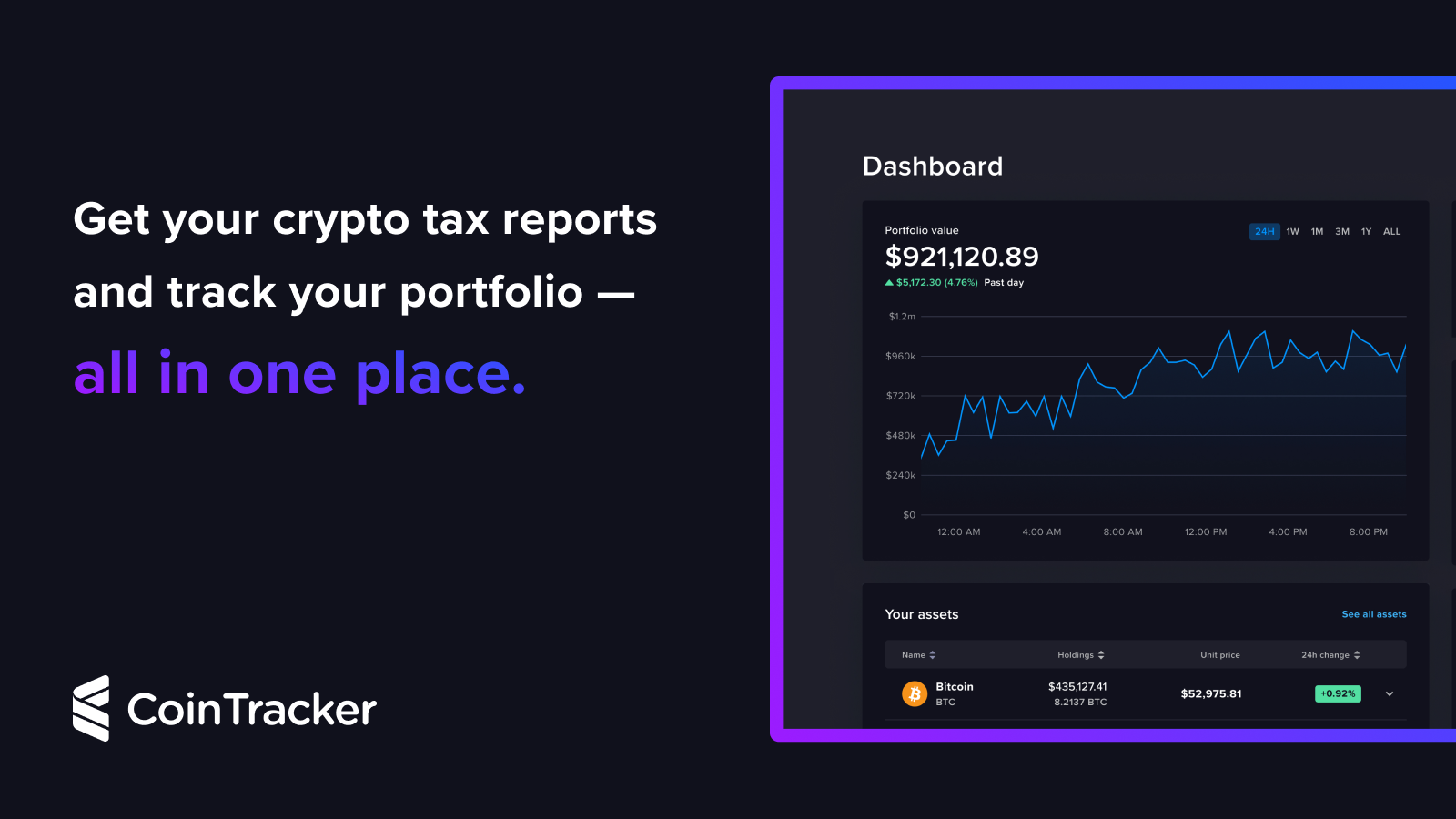 3 ) Cryptotrader is another option promising to help you to do your crypto trading taxes in minutes. And save you all that headache and confusion. Cryptotrader has written some helpful guides on cryptocurrency taxes that are useful.
In three simple steps, you can be tax ready:
First you import your trades
Secondly, you add any crypto income
And thirdly you will now have your report ready to be downloaded.
Check out their website for more information www.cryptotrader.tax
4 ) Bitcoin.tax is a similar service like Cointracking and Cointracker that helps to compile your trades and create reports (applicable for some countries) for your yearly tax reports. The site itself looks basic but it gets the job done. I can vouch for that.
For me and many other services like this are super handy and worth the low cost for its service. BitcoinTaxes have integrated and teamed up with online tax preparation services to help import your crypto activity into your tax forms.
Check out their website for more information www.bitcoin.tax
Useful crypto tax tips
Harvest losses
For many crypto investors, 2018 was a tough year, so you might have had bigger capital losses than gains. This means that you can make use of this and realising the loss of a previously gained transaction/crypto to lower your tax burden.

To exemplify this: You bought 1 Bitcoin for 1000$ in January 2017 and then you traded the 1 BTC for 20 ETH in November 2017 when the price of 1 BTC was 20,000$.
That means you realised a capital gains event when your investment of 1000$ (for 1 BTC) was worth 20,000$ (for 1 BTC). And you would have to pay tax on the gains of 19,000$ in many countries.
But if the market crashed in 2018 and those 20 ETH that you bought for 20,000$ is now only worth 2000$ and you then traded those for let's say 1 Bitcoin again, then you have realised a capital loss of 18,000$.
This might not help you when doing your taxes for 2017, but worth considering for your 2018 crypto taxes. In some (most?) countries you can only offset capital losses against capital gains, so if you had a poor capital gains year in 2018 then it might be a good idea to check if you can carry forward your losses for the following year – 2019.
Bank some of your profit
By putting some profits aside whenever you've made a trade that resulted in profits you can save yourself some future headache when the tax day comes.
After reading this guide you should be familiar with the fact that you might need to pay taxes on crypto trades. So by applying this approach, you can make sure that you don't have to dig too deep to pay your taxes.
Long term vs short term capital gains
In some countries, crypto is taxed differently depending on the time you held one crypto before trading/selling it. Both the U.S and Germany for example, apply this approach.
Obviously, this could be useful for you to be aware of and decide how and when you might want to sell your cryptocurrencies.
Seek professional tax advice when necessary
Don't be afraid to contact experts in the field when you are concerned or unsure about your tax situation.
Sure you can always find helpful advice on Reddit, tax forums and via your social circles. But sometime you might need professional advice from someone qualified. It could save you a lot of money, time and headache.
Get help from Crypto Tax Girl or others who have legal backgrounds to help you navigate the crypto tax space and no questions are too dumb or silly when it comes to doing your taxes on crypto trading the right way.
And help you to avoid future fines for example.
Read our interview with Crypto Tax Girl to learn more about taxes for crypto trading.
How cryptocurrencies are taxed in other countries
Portugal
The Portuguese Tax and Customs Authority (PTA) have clarified that there are no capital gains taxes or VAT for cryptocurrencies. In Portugal, cryptocurrencies are considered currencies, and therefore not exposed to any capital gains taxes. And they are also exempt from VAT.
Germany
In Germany, crypto is considered private money and if you have held a cryptocurrency for more than 1 year then you won't have to pay any capital gains tax. Otherwise, income tax applies and is progressive reaching up to 45%.

Example: Bought 1 Bitcoin for 1000$ on the 1st of January 2017 and sold it for 20,000$ on February 15th, 2018 then no capital gains tax.
U.S
In the U.S they differ the taxation of cryptocurrencies (like with some other investments like stocks for example) depending on how long you've held your cryptocurrency before trading/selling it.
For short term (less than 1 year) taxes on crypto trading, they are taxed as ordinary income. For long term (more than 1 year) taxes on crypto trading, these are taxed differently and about half the rate of short term taxation (depending on your tax situation).
Belarus
Belarus has taken an interesting approach to cryptocurrencies in a broader sense. Where the Belarusian president Alexander Lukashenko has signed a decree making cryptocurrencies, initial coin offerings, and smart contracts legal.
And cryptocurrency will be tax-exempt until 2023. This is a strategy taken to boost the development of their digital economy and strengthen the view of Belarus as a digital/tech market.
France
France recently took a more positive approach to the taxation of cryptocurrencies when they re-defined digital currencies as movable property. That lowered the tax rate to 19%.
The Netherlands
Holland considers cryptocurrencies as a type of asset, and there's a 25,000 euros threshold for all gains on assets that are tax-free (this would include other investment, stocks, etc).
Anything over that is taxed, depending on the amount of your capital you pay between 0.86 and 1.61 percent of tax.
Useful links on cryptocurrency taxes
UK – Crypto taxes
Guidelines on taxation of cryptocurrencies or crypto assets are outlined in this policy paper created in December 2018
Mining and eventual taxes
Mining Bitcoins and other cryptocurrencies are often taxed differently than personal trading.
It could either be taxed as a hobby or as a professional activity, depending on the volume for example and your country's tax structures. Make sure to check with your national tax agency.
Coincentral guide
Swedish tax tools and services for taxes on crypto trading
Deklira – Swedish online tax service for cryptocurrency trades
This service is for the Swedish market, and they can take your trading files and create tax reports/files that you can upload to the Swedish tax agency directly online.
K4 Krypto – From CSV to tax ready reports
Another service like the one from Deklira. K4 Krypto takes your trades in a CSV file and automatically creates reports in the correct format for the Swedish tax agency for your online tax declaration.
***NOTE: That there might be instances where your national tax agency sees your trades as professional trades/trading and then looking to tax you accordingly. Seek professional advice if you think this might be applied to you.
We hope that you found this guide on crypto taxes for both traders and holders helpful. Please share it if you did. If you have questions or comment please feel free to leave them here below and we will try and answer them as soon as possible. In the meantime good luck and be safe.
Other popular guides:
Hello and welcome to Go Cryptowise.
My name is Per Englund and I'm a long-term fan and investor and trader of Bitcoin and other cryptocurrencies. I caught the attention of Bitcoin like many other several years ago, but it was first around 2016/2017 that I truly got into cryptocurrencies and blockchain technology.
I have since traded, bought, researched and learnt about this new emerging space to the fullest. When not producing crypto-content I create and design new products and businesses. And I want to combine my business experience with my passion to create meaningful content for all our readers.
And I am bringing this vision to my writing and how Go CryptoWise work.
Connect with me on LinkedIn. Ask me anything on here.
Get in touch with me to find out more about Go CryptoWise and what we care about.