The leading global enterprise blockchain platform
In this review of VeChain and VET + VTHO you will learn:
About VeChain & VET
VeChain has been one of the most fast-moving blockchain startups in recent years.
With the backing of some of the industry giants like BMW, Walmart, BYD and DNV-GL this popular startup is on a mission to transform pretty much every industry with their blockchain technology.
"Salute & Respect, Ethereum"

Sunny Lu CEO
That was the message VeChain and the CEO and founder Sunny Lu sent to Vitalik and Ethereum.
VeChain is an enterprise focused blockchain that is built on the Ethereum blockchain. They share a lot of similarities with Ethereum but they have taken the best of Ethereum and fine tuned it for mass market adoption.
The blockchain ecosystem consists of two tokens / cryptocurrencies. One is VET and the other one is VTHO (VeThor token).
VET is the primary cryptocurrency, which produces a separate token called VTHO. And the latter token (VTHO) is used to for all transactions and smart contracts made on the blockchain.
Where to buy VET: Binance, Kucoin, OceanEX
Salute & Respect, Ethereum where we start from but are marching to the new world! Thank you @VitalikButerin and entire ETH team and community #VeChainThor #GenesisBlock pic.twitter.com/6cB7pXVKCU

— Sunny LU, VeChain (@sunshinelu24) June 30, 2018
The VeChain blockchain is primed towards the supply chain industry, which is a trillion dollar industry that could massively be helped by new emerging technologies like blockchain.
But the use cases for VeChain doesn't stop there as the long list of partnerships shows.
Like Ethereum it is a blockchain with smart contracts technology, decentralized Applications (dApps) and a ICO and token platform. It is a modern tech and business primed blockchain geared for pretty much any kind of use case.
The future is VeChain, that's for sure.
From tracking authenticity and shipping of food, drinks, etc to car ownership and history details with BMW with their VerifyCar app, to their Carbon Bank initiative which incentivises green living by consumers (Medium article on Carbon Bank) and being the underlying blockchain solution for countries like San Marino.
"The project will provide carbon banking solution for BYD card models through the VeChain automobile lifecycle management solution to provide a data depository for millions of cars, buses, trains and other vehicles into a blockchain technology backed ecosystem."

BYD, VeChain and DNV GL:
What makes VeChain unique?
You could ask yourself why did they branch out from the Ethereum blockchain to try their luck for themselves?
Was it to solve the scalability issues that's standing in the way of Ethereum's mass adoption?
No, well not the biggest reason to why at least. VeChain has added a couple of neat features that proves their capabilities to handle 50,000 TPS. Which should be more than enough to handle future client needs.
But no the main reason for why VeChain saw a gap in the market, was the lack of concrete business focus from Ethereum and others. This is the main selling point of VeChain.
"Based on our test, the maximum TPS could be 10,000 transactions"

On scalability – website
Interview with Sunny Lu – Founder and CEO
Real business focus – real business use cases
For those who spend time on Reddit's biggest subreddit page focused on cryptocurrencies (reddit.com/CryptoCurrency) the biggest talking point around VeChain has been centred around their long list of partnerships.
So from BMW to BYD, Bright Food, PWC, DB Schenker, DHL, etc to their obvious star companion and partnership with the business giant DNV GL.
DNV GL the perfect partner
At the heart of VeChain you'll find the giant DNV GL. A global assurance company with headquarters in Norway. DNV GL is a authentication and certificates company that are part of nearly the entire supply chain industry in one way or another.
They are more than just a partnership. They are strategic partners that can help each other by utilising each other's strengths. With DNV GL VET can more easily get into the finer rooms and strike up new conversations and partnerships with companies from around the world.
"DNV GL partners with blockchain expert VeChain to increase transparency from the factory to the consumer"

DNV GL press release about strategic partnership with VeChain
And at the heart of their partnership you can find MyStory. A service that provides consumers with credible information about the authenticity of the products they're buying.
And for the producers a way to tell the story about themselves, their products but also to stand out from their competitors by providing transparency to who they are. Read our article about MyStory here below.
The use of VET
The VET token is the foundation of the VeChain blockchain. Simply by holding VET in a dedicated wallet you generate VTHO tokens. And those latter tokens are used to fuel transactions.
So VET is the goose that lays the eggs. And there are cryptocurrency holders that buys VET as a speculative investment.
And then there are businesses buying VET to produce their own VTHOs. In order to use the VeChain blockchain.
The VET is by the time of writing this post valued at $ 0.007155 and 0,00000134 BTC.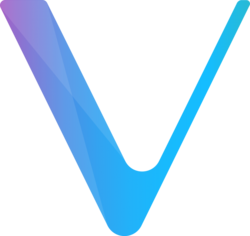 VeChain (VET)
Price
The use of VTHO
The VTHO token is used to pay for all transactions and clauses on the blockchain.
And you'll get VTHO simply by holding VETs. Or you can buy it from the open market.
A cool feature is the MPP tool that allows businesses to use the blockchain without ever touching, buying VTHOs.
VTHO is by the time of writing this post valued at $ 0.000803 and 0,00000015 BTC.

VeThor Token (VTHO)
Price
The VeChain technology
Mainnet
Smart contracts enabled, like Ethereum and many others
MPP (Multi-Party Payment protocol)
MTT (Multi-Task Transactions)
ICO platform
dApps
Proof of Authority model
Mainnet – The heart of VeChain
VeChain moved to their mainnet back in June the 30th 2018. And since then the focus has completely been on how many transactions and clauses are happening daily.
You can check the dailies on the VeChain stats website VeForge.
So far 2,547,069 million blocks have been created and167,8 million VTHO have been burned (70% of the VTHO used to pay for transactions and clauses gets burned, the remaining 30% goes to the authority nodes).
Overall you can say that the daily usage comes in waves. Where there are days or weeks of very high usage mixed in with days and weeks with hardly any usage at all.
Smart contracts enabled
VET blockchain utilises smart contracts like other do, which enables users to put 'smarter' information on the blockchain.
Where if certain parameters are triggered it will have definite results. Like renting a car and paying for the exact mileage driven, or time used, fuel used or how well you drove the car.
MPP (Multi-Party Payment protocol)
MPP (Multi-Party Payment protocol) is a tool or feature that allows parties to pay for other's transactions on the blockchain.
It effectively means that businesses could operate on the blockchain without ever buying VET or VTHO.
Which might not sound like a big thing, but it could be a massive feature that tips the balance over in the favour of VET. As businesses wants to have it as easy as possible to use different technologies.
MTT (Multi-Task Transactions)
Another unique feature is the Multi-Task Transactions tool that makes it possible to have both transactions and clauses.
A clause is basically several transactions bundled together to keep transactions together for both efficiency and historical reasons. A clause contains the following information:
To — the recipient's address;
Value — the amount transferred to the recipient;
Data — this fulfils several functions, including determining whether the transaction is a standard transaction or a smart contract-creating transaction.
VeChain's own ICO platform
It's possible for cryptocurrency startups to hold ICOs on the VET platform, similar to doing so on the Ethereum blockchain.
An ICO is a capital raising event where the startup is seeking to raise funds to grow their business.
Currently there are a few different cryptocurrency projects that runs on their blockchain ecosystem:
Plair: Plair is E-Sport and video-gamer-focused public blockchain platform and ecosystem, that is built to serve and improve the gaming experience and lifestyle for millions around the world
OceanEX: OceanEX is a cryptocurrency exchange and asset management platform launched by BitOcean Global that will serve as an exchange, trading platform and asset management platform
Cahrenheit: Cahrenheit aims to be the world's first blockchain-based ecosystem for the automotive aftermarket economy.
Safe Haven: Safe Haven is a unique range of blockchain solutions that integrates legal entities into a decentralised solution for the inheritance of passphrases, bank accounts, social media accounts and cryptocurrency.
Cecil Alliance: Cecil Alliance Foundation creates a global standard in collecting, tracking, and transacting of animal data in order to bring transparency, data accessibility, traceability, and verifiability to animal based industries, ultimately advancing animal welfare and species conservation.
DApps
Decentralised Applications, that are built on the VeChain blockchain. There are some public dApps, and then there might be a number of private ones that has been built also.
For the public ones, there are few interesting examples such as:
VeVid Is VeChain's identification and KYC system. This will help VeChain and its ecosystem to validate users, minimise foul play through background checks. This tool will help to regulate the blockchain and its users across the various dApps.
VeVOT – This is a voting service that could be used for various types of voting events, like general elections. From the start this feature is used for VeChain's own governance system.
VeSCC – Are enriched information for the smart contracts on the blockchain. Where the smart contracts can be categorised and certified, or uncertified. The certifications can cover legal aspects like ownership, securities of the source code and other richer legal elements.
Proof of Authority
The VeChain blockchain is a modified Proof of Stake system called Proof of Authority. They are very similar but has a different consensus model and different types of nodes.
"Proof of Authority is a type of Proof of Stake blockchain method but with a different consensus model. In PoA you stake your cryptocurrencies as with PoS. But with PoA only certain nodes are allowed to validate new blocks. So instead of the focus and priority given to nodes and holders with more cryptocurrency staked (PoS). They give priority to pre-selected validators".


Go Cryptowise article on Proof of Stake and Proof of Authority
List of partnerships
DNV GL, BMW, DB Schenker, DHL, BYD, Bright Food, Kuehne & Nagel, Groupe Renault, and many more.
Why VET is worth investing in:
Impressive list of partnerships and crystal clear business use cases
They have shown that they can deliver, on time and keeping their promises which is super important when comparing them to many other startups in and outside the cryptocurrency and blockchain world
Unique technology that really sets them a part, with MPP, MTT VeChain is completely in tune with their business landscape and knows how to provide value
It's a bit mind boggling that a company with so many partnerships, great technology, esteemed backers and proven value, right here, right now are so far down the list of all cryptocurrencies. It deserves a much higher position and it might show itself to rise a lot in coming years.
Final thoughts about VeChain and VET
VeChain is one of the most promising cryptocurrency projects out there. But they are in a different phase than many other crypto startups.
They've gone from seeking funding for building their idea and business to the next phase. Here in this growth phase it's all about delivering, you can't hide behind promises anymore.
That's a strong reason for why there's less speculative interest in a project like VeChain, compared to others with higher marketcaps but without any finalised product. Or actual usage.
So it will be interesting to see if/when VeChain can really kickstart their mainnet usage and fire on all cylinders.
Read our interview with Jason Rockwood below, who is a Country Manager for VeChain
Where to buy VET: Binance, Kucoin, OceanEX
Where to buy VTHO: LBank, OceanEX
Reddit page: VET (VeChain)
Website: VeChain website
VET & VTHO price tools
Convert VET prices to Fiat (USD, GBP, EUR, etc) here
Convert VET prices to other cryptocurrencies (BTC, ETH, XRP, etc) here
Convert VTHO prices to Fiat (USD, GBP, EUR, etc) here
Convert VTHO prices to other cryptocurrencies (BTC, ETH, XRP, etc) here
Written by:
Per Englund – Founder of Go CryptoWise a cryptocurrency and tech fan that wants to see better and smarter products and services that makes our lives better and easier
Other cryptocurrency guides: